Lama Yeshe Jinpa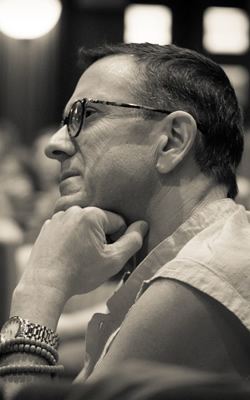 Lama Yeshe Jinpa is the spiritual director and resident teacher of Lion's Roar Dharma Center which he co-founded with Geshe Losang Gyatso in 1992. In 1995, Lama Jinpa received direct heart/mind transmission from Geshe Gyatso after 25 years of Dharma practice and study. He is one of the few western lamas thus far recognized within the Gelugpa lineage of Tibetan or Vajrayana Buddhism, the lineage of His Holiness the Dalai Lama.
Born Stephen Bryant Walker in 1953, Lama Jinpa spent most of his younger years in New York. His grandmother's library of Buddhist books, his trip to Japan at the age of 15, and an influential high school teacher placed him on the Buddhist path at an early age, in the mid-1960s.
Lama Jinpa began university studies at the Univ. of Colorado in Boulder, where he was taught and greatly influenced by Chogyam Trungpa Rinpoche, with whom he first took Refuge. He attended the Buddhist Studies program at Naropa University in Boulder from 1975 to 1980, where he also undertook Zen training with Kyozan Joshu Sasaki Roshi, helping Roshi to establish a Boulder Zen Center. Lama Jinpa's yogi educators also included Reginald Ray, PhD and Judith Simmer-Brown, PhD and Zen Buddhist Steven Rockefeller at Middlebury College in Vermont.
He met Geshe Losang Gyatso in Nevada City after Lama Jinpa, who had met and married his first wife in Boulder and had two children, moved his family to California. Geshe Gyatso, nicknamed Geshe Yadron, from Sera Jey Monastery in India became his main (heart) teacher and Lama Jinpa received Dharma Transmission from him in 1995.
At Geshe Gyatso's urging, Lama Jinpa had become a licensed psychotherapist in 2000 and founded Middle Way Health in Sacramento – which he continues to run today – specializing in Buddhist Psychotherapy. He blends traditional psychotherapy with alternative meditative traditions such as core mindfulness skills and meditation in daily life to emphasize non-judgmental awareness, energy, and the cultivation of loving kindness.
His dharma education had one more dramatic step: in 2005 Lama Jinpa moved to India and took monastic vows at Sera Jey Monastery where he received the name Yeshe (primordial awareness) Jinpa (generosity).
In 2007, due to the considerable challenges of being a monk in the Western world and in order to serve the dharma more effectively, Lama Jinpa returned to householder life. He determined he could thus further benefit himself and others, while seeking to balance all facets of his life, including his family, psychotherapy practice, his spiritual practice and leading Lion's Roar.
In 2008 he married Sabrina Schultz, a registered nurse and dharma practitioner who has studied with many teachers. She is also a meditation instructor at Lion's Roar.