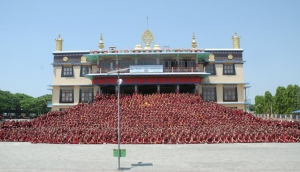 Lion's Roar Dharma Center is associated with Sera Jey Monastery.  Our Teachers have studied or graduated from Sera Jey Monastic University.  Sera Jey provides the Buddhist community with an academic institution granting degrees in Buddhist studies, a retreat center, a secondary school, and a cultural center.
Sera Jey Monastery was founded in Tibet in the 15th century.  Due to the Chinese invasion and occupation of Tibet in the middle of the last century, Sera Jey Monastery has relocated to Southern India.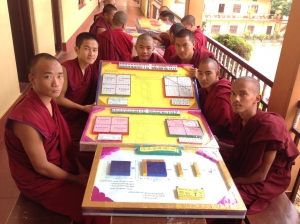 The Abbot and Senior Teachers from Sera Jey Monastery regularly visit Lion's Roar Dharma Center to teach and offer guidance.  Lion's Roar Dharma Center and its members support the Monastery through our contributions that go toward maintaining their programs, feeding and housing the monastics, and helping with travel.
We are extremely grateful and honored to be associated with Sera Jey Monastery and benefit from its teachers and traditions.
Donate to Sera Jey
When you donate using the button below, you can specify what you are donating for if you wish, but only if you use PayPal as your payment method.
If you are using PayPal as your donation method, once you set the amount of your donation, you will be presented with the option to "Add special instructions to the seller."
In this box, you can specify Sera Jey Food Fund or General Donation to Sera Jey. If left blank, your donation will go to Lion's Roar Dharma Center.
Thank you for donating!! We are working to give you the option to select the destination of your donation when you use a credit card. Thank you for your patience.