Welcome to Lion's Roar Dharma Center
Dharma is training for real life. ~ Lama Jinpa
---
All of our classes, practices, and events are now online only.
Please see the calendar for dates, times, and access codes.
---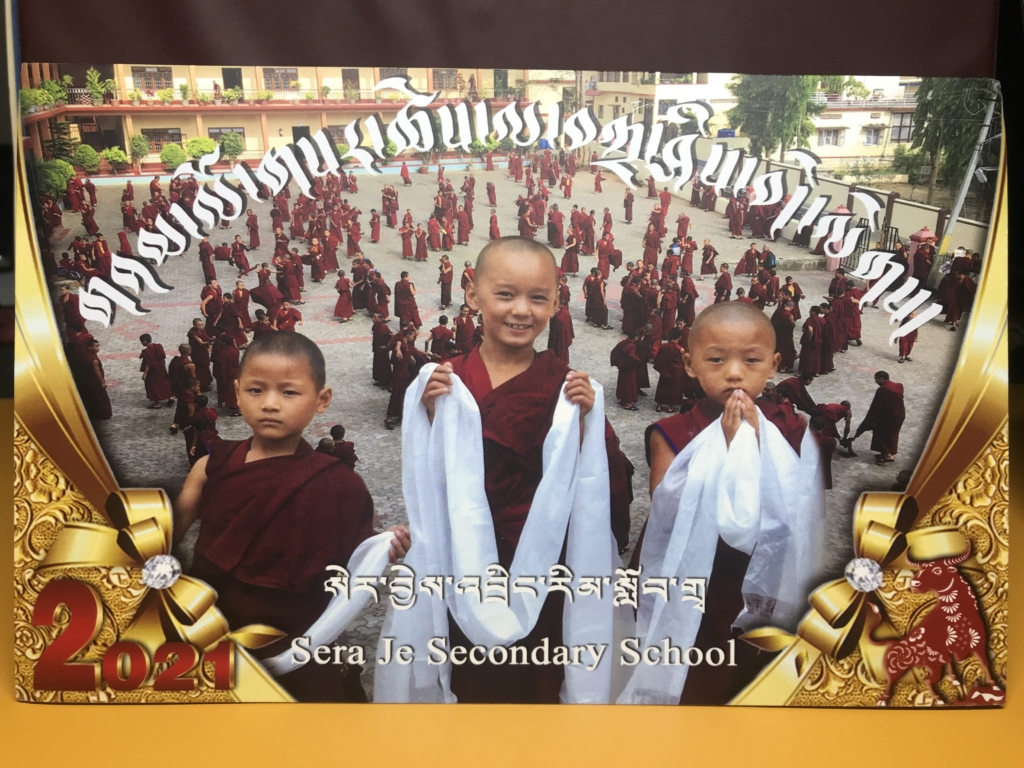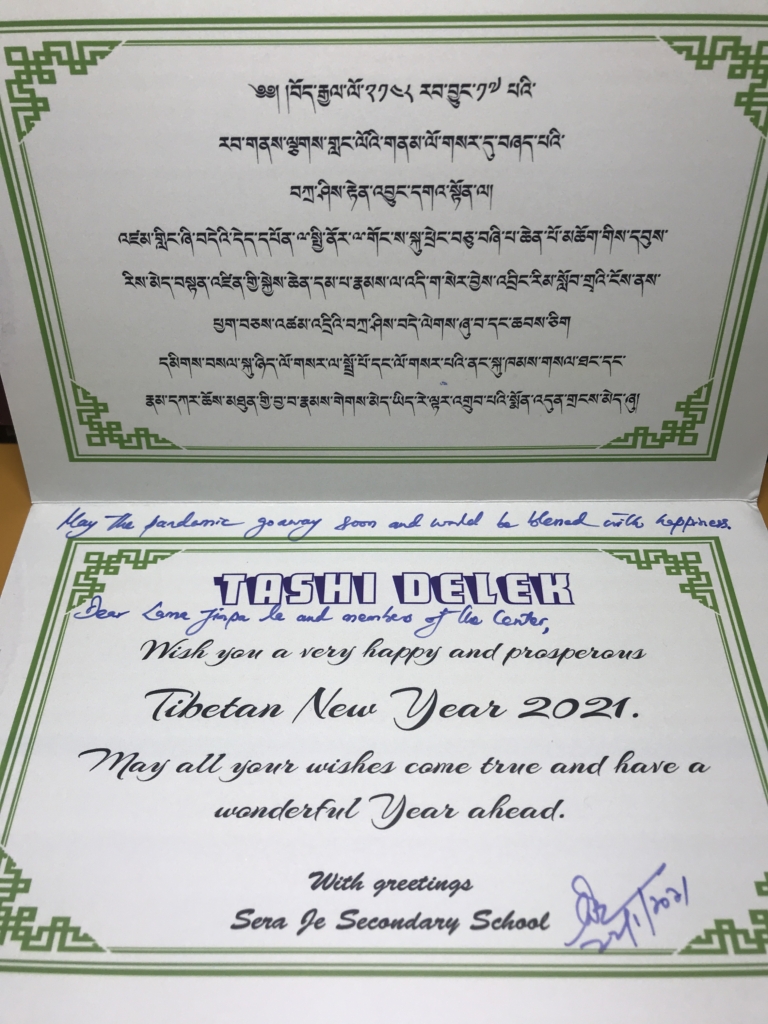 A Letter from Office of His Holiness the Dalai Lama
May 4, 2020
Dear Yeshe Jamyang,
Thank you for your recent email on behalf of Lama Yeshe Jinpa of your Dharma Center in Sacramento, CA.
I have brought the contents of your letter to His Holiness' attention. He appreciates the prayers by your members of the Center for his health. His Holiness has directed me to convey to you that he is in good health.
We also thank you for posting links to your website to His Holiness' recent messages of hope and strength at this time of serious crisis due to the Coronavirus pandemic.
His Holiness sends his prayers to all of you at Don Nga Dargey Lion's Roar Dharma Center.
Best wishes,
Chhime R. Chhoekyapa
Secretary
Office of His Holiness the Dalai Lama
Thekchen Choeling
McLeod Ganj 176219, Dharamsala
Himachal Pradesh
India
His Holiness the Dalai Lama's Message of Hope
Below is a copy of the Dalai Lama's message of hope as referenced in the above letter.  A link to His Holiness' Earth Day message follows the photos of the message of hope.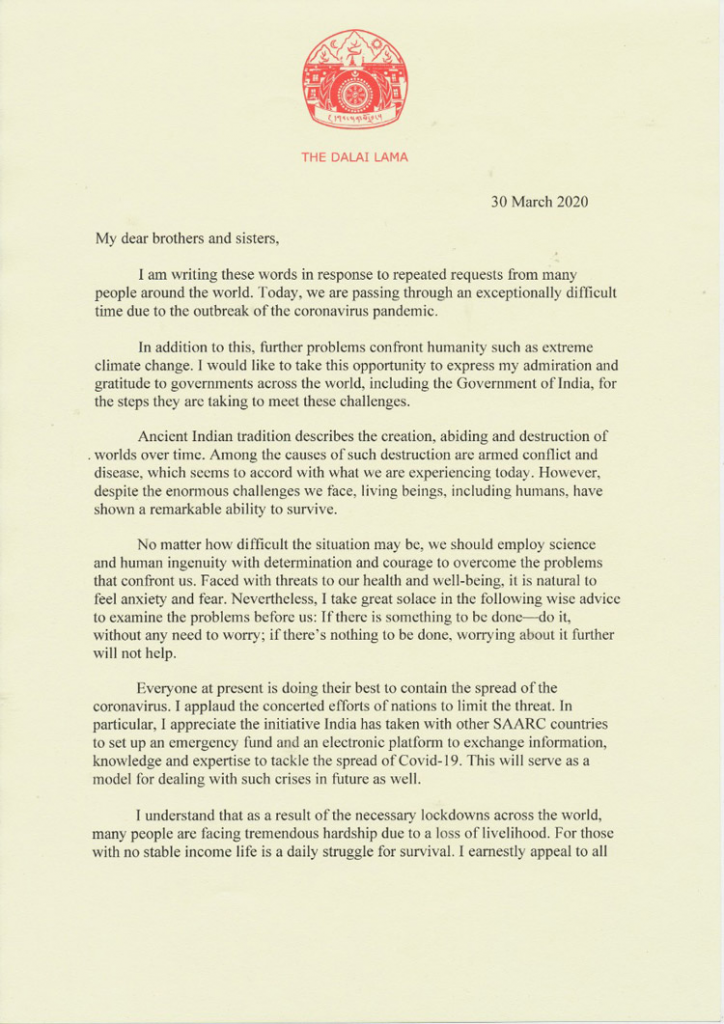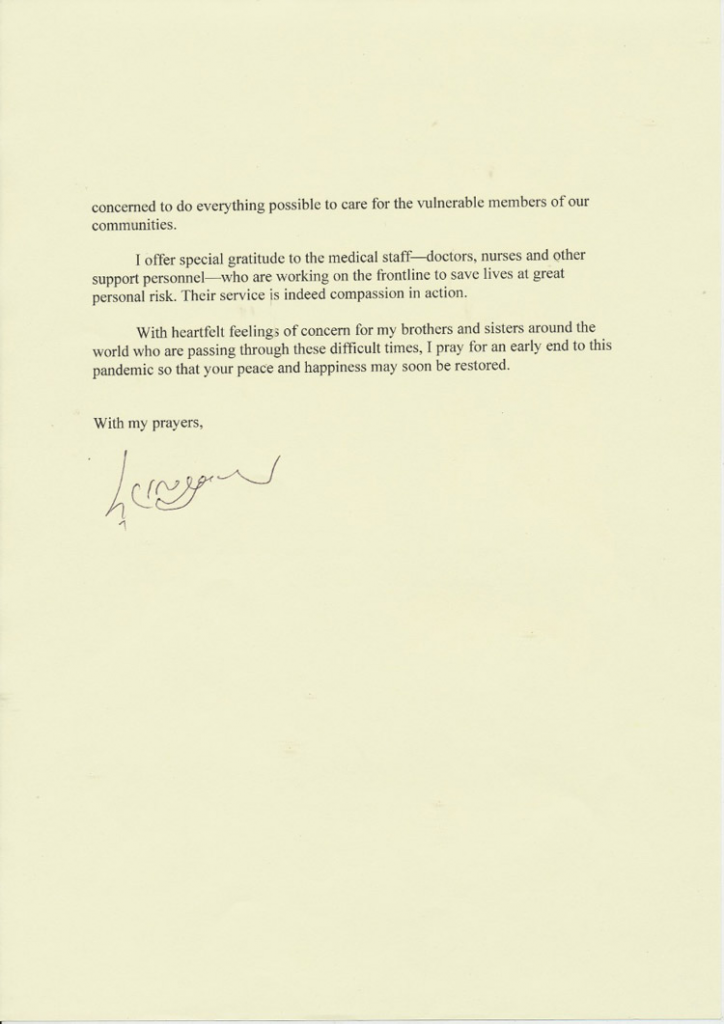 His Holiness the Dalai Lama's Message for Earth Day
A message from His Holiness for Earth Day can be seen its original context at https://www.dalailama.com/news/2020/his-holiness-the-dalai-lamas-message-for-earth-day
The Shambhala Journey
The Shambhala Journey is a vision and a path of finding, seeing, exploring and actually manifesting compassionate, enlightened community. It starts right here and right now when we make the aspiration and determination to truly care for ourselves, others and our world. Aliveness, freedom and creativity flow from this spirit of awakening compassion, known as bodhicitta.
Shambhala means 'source of joy' – it's both the visionary and real worlds of environment, animals, plants and people that have inspired Bodhisattvas for thousands of years.
The Shambhala vision is an expansive, inclusive ideal that embraces the interdependence of both the sacred and secular views, incorporating art, music, poetry and philosophy into a new humanism that offers practical solutions for modern life grounded in authentic Buddhist wisdom. It's about learning to work with everyone, with other views, with conflict and with differences. It envisions creating a diverse but also cohesive society that includes a wide variety of ideas of how things should be and weaves them into a whole that benefits everyone.
Lion's Roar Dharma Center teaches and presents the Shambhala Journey through people and programs that balance the secular and the sacred, harmonizing the actual and ideal. Sunday services will be devoted to the Shambhala Journey; Lama Jinpa and Bodhisattva students will give talks and lead practices on Sundays that will explain and expand on this Shambhala vision.
Medicine Buddha Sand Mandala
In September of 2018, a group of Tibetan monks led by Geshe Tsewang Dorje traveled from Ladakh, India, to create a Medicine Buddha Sand Mandala for the  well-being of the Sacramento, California, community. One of our members, Autumn Payne, created this video to document the process for the Sacramento Bee.
Lion's Roar Dharma Center
Lion's Roar Dharma Center and Do Nga Dargey Temple follow the Buddha Dharma – a new humanism that embraces both the secular and sacred paths of transformation. We recognize and affirm the inherent and indestructible goodness of all beings.
We are in the tradition of the His Holiness the 14th Dalai Lama of Tibet. Our Temple was founded by Geshe Losang Gyatso and is directed by Lama Yeshe Jinpa and Geshe Damchoe Gurjav. Our Heart Lineage Teacher is Kyabje Jhado Tulku Rinpoche.