Welcome to Lion's Roar Dharma Center
Dharma is training for real life. ~ Lama Jinpa

Green Tara Sand Mandala with Geshe Lobsang Dorji and Monks from Sera Jey Foundation
Beginning on October 15, 2019, Geshe Lobsang Dorji and monks from Sera Jey Foundation in India will create a Green Tara sand mandala at Do Nga Dargey Temple of Lion's Roar Dharma Center in Sacramento, California.
The creation of the Green Tara sand mandala will happen in Do Nga Dargey Temple and span the dates from Tuesday, October 15 through Sunday, October 20, 2019. At the time of this writing, the schedule is as follows. Before attending any of the events associated with the Green Tara sand mandala, please check our calendar for up-to-date information: https://lionsroardharmacenter.org/calendar/
Green Tara Sand Mandala Schedule (all dates are 2019)
All are invited to view the creation of the Mandala, receive the blessings, and attend the meditation session and teachings.
10/15 3:00 p.m. — 8:00 p.m. Opening Ceremony
10/16 10:00 a.m. — 8:00 p.m.  Creating the Sand Mandala.
10/17 10:00 a.m. — 8:00 p.m. Creating the Sand Mandala.
10/18 10:00 a.m. — 7:00 p.m.  Creating the Sand Mandala.
7:00 p.m. — 8:00 p.m.   Guided Meditation.
10/19 10:00 a.m. — 6:00 p.m. Creating the Sand Mandala.
6:00 p.m. — 8:00 p.m.   Geshe Lobsang Dorji will give teachings on Seven Limb Prayers of Green Tara.
10/20 10:00 a.m. — 12:00 p.m. Creating the Sand Mandala.
12:00 p.m. — 1:00 p.m.  Arya Tara Puja.
2:00 p.m.  Offering the precious sand of the Mandala to the river for nagas.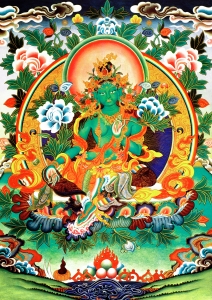 About the Green Tara Sand Mandala
In Buddhist Tantra, a mandala is the interdependent complex of the entire universe with a palace occupied by a Tantric Deity in the center. In other words, contrary to the general concept of a mandala in the west, a Tantric Buddhist mandala is the entire universe represented as the interdependent manifestation of a Sambhogakaya Buddha. There are many ways in which mandalas are constructed to indicate this phenomenon, from the most familiar versions consisting of a painting of geometric patterns all the way up to spectacular, life-sized (and larger than life-sized) 3-dimensional sculptural representations of the structures and inhabitants of the mandala.
In this case, we have a Green Tara sand mandala.  A sand mandala is not quite three-dimensional but is also not simply two-dimensional. Also, painted and sculptural mandalas are often kept intact for the life of the materials that bind them together, while a sand mandala is typically dissolved not long after it is completed. Additionally, the creation of sand mandalas are typically public, while other mandala representations tend to be created in private
A sand mandala is a special type of mandala that embodies a meditative and imaginative creation of the Deity, palace, and universe. Little by little, almost grain by grain, an essentialized image of the mandala is brought into direct contact with the senses and mindstreams of all who encounter it. As the creation process proceeds, one's awareness of the presence of Green Tara is continuously refined and intensified until, upon completion of the image, the presence of Green Tara is manifest and we pray to and meditate on her.
At the conclusion of the multi-day meditative construction, the sand mandala representation of the meditative universe is dissolved. Simultaneously, our imaginative meditative encounter with the Sambhogakaya Green Tara dissolves into the vast expanse of the Dharmakaya and the nature of one's own mind is revealed.
All are welcome to join us on this journey.
There is no charge. Donations are gratefully accepted.
The Shambhala Journey
The Shambhala Journey is a vision and a path of finding, seeing, exploring and actually manifesting compassionate, enlightened community. It starts right here and right now when we make the aspiration and determination to truly care for ourselves, others and our world. Aliveness, freedom and creativity flow from this spirit of awakening compassion, known as bodhicitta.
Shambhala means 'source of joy' – it's both the visionary and real worlds of environment, animals, plants and people that have inspired Bodhisattvas for thousands of years.
The Shambhala vision is an expansive, inclusive ideal that embraces the interdependence of both the sacred and secular views, incorporating art, music, poetry and philosophy into a new humanism that offers practical solutions for modern life grounded in authentic Buddhist wisdom. It's about learning to work with everyone, with other views, with conflict and with differences. It envisions creating a diverse but also cohesive society that includes a wide variety of ideas of how things should be and weaves them into a whole that benefits everyone.
Lion's Roar Dharma Center teaches and presents the Shambhala Journey through people and programs that balance the secular and the sacred, harmonizing the actual and ideal. Sunday services will be devoted to the Shambhala Journey; Lama Jinpa and Bodhisattva students will give talks and lead practices on Sundays that will explain and expand on this Shambhala vision.
Medicine Buddha Sand Mandala
In September of 2018, a group of Tibetan monks led by Geshe Tsewang Dorje traveled from Ladakh, India, to create a Medicine Buddha Sand Mandala for the  well-being of the Sacramento, California, community. One of our members, Autumn Payne, created this video to document the process for the Sacramento Bee.
Lion's Roar Dharma Center
Lion's Roar Dharma Center and Do Nga Dargey Temple follow the Buddha Dharma – a new humanism that embraces both the secular and sacred paths of transformation. We recognize and affirm the inherent and indestructible goodness of all beings.
We are in the tradition of the His Holiness the 14th Dalai Lama of Tibet. Our Temple was founded by Geshe Losang Gyatso and is directed by Lama Yeshe Jinpa and Geshe Damchoe Gurjav. Our Heart Lineage Teacher is Kyabje Jhado Tulku Rinpoche.