Jamgon Shedrup Thekchog Ling Monastery & Retreat Center
Our Mission
"In Honor of His Holiness the Dalai Lama, Geshe Tsewang Dorje and other dedicated members of Ngari Institute are working tirelessly to Preserve and Spread  Dharma Teachings Throughout The World for Generations to Come." ~Ngari Institute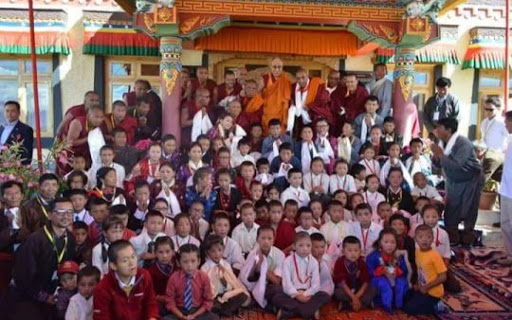 Ngari Institute of Buddhist Dialectics Ladakh

Ngari Institute of Buddhist Dialectics is located in the Himalayan Kingdom of Ladakh, in a small village called Saboo. The 20 acres of land that comprise the campus are in the process of being completely transformed into an oasis of learning.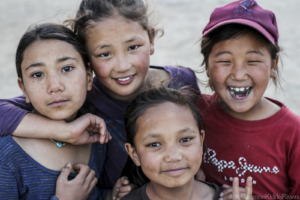 The main mission of Ngari Institute is to provide underprivileged  children in the region with a modern scientific education combined with a traditional Buddhist education. The goal is simple but profound. Under the leadership of Geshe Tsewang Dorje, an eminent Buddhist scholar and practitioner, Ngari Institute in partnership with Ngari Foundation in California is dedicated  to ensuring every child without exception  has access to a quality education,  food, shelter and clothing  all the way to High School. 
Ngari Institute Foundation USA
The Ngari Institute Foundation  is a nonprofit religious corporation with IRS 501(c)(3) tax-exempt status, in Orange County, California that  was founded in April of 2019. It was founded  in response to a need by individuals  who wanted an easier way to support the Ngari Institute of Buddhist Dialectics' altruistic mission is to provide support for disadvantaged children in Saboo Village, Ladakh, India who would not otherwise have the opportunity to attend school. 
As a non-sectarian Mahayana Buddhist organization, the Ngari Foundation is  dedicated to preserving and disseminating Buddha Dharma based on the teachings and guidance of His Holiness the 14th Dalai Lama. Under the guidance of Geshe Tsewang, Venerable Ngawang Rigdol serves as President of The Ngari Institute Foundation and Administrative Secretary for Sera Jey Monastery. 
Jamgon Shedrup Thekchog Ling Monastery & Retreat Center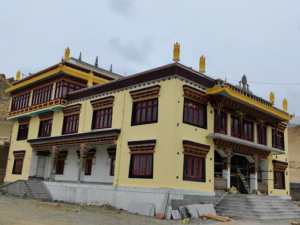 Under the sponsorship and direction of Ngari Institute of Buddhist Dialectics,  Geshe Tsewang Dorje and all members of the Ngari Institute of Buddhist Dialectics helped found and are in the process of building Jangon Shedrup Thekchold Ling Monastery and Retreat Center.  The Monastery manifested in response to His Holiness the Dalai Lama's  vision of expanding and preserving the traditional Monastic Education system in the Ladakh region for future generations to come.  Currently,  six senior monks and eight junior monks live and work at Jamgon Shedrup Thechog Ling Monastery & Retreat Center.  
When  construction of the Monastery is complete, Geshe Tsewang envisions 25 young monks living and learning onsite. The monastery is not only for monastics. It will serve the whole community by providing meditation instruction, yoga, Lam Rim courses,  pujas and so on., 
In 2020, the Grand Opening Ceremony of Ngari's "Jamgon Shedrup Thekchog Ling Monastery and Retreat Center" was postponed due to the COVID crisis. 
Jamtseling Buddhist Relic Temple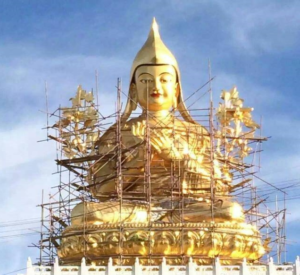 Jamtseling Temple, one of the oldest Temples in Leh, Ladakh, has been a revered sacred treasure by the community it serves for centuries. In recent years, due to natural disasters and old age, it had begun to deteriorate. The villagers entrusted with it's care often looked to Geshe Tsewang and Ngari Institute for guidance and support. 
 In 2008 Geshe Tsewang went on a pilgrimage and traveled to many countries. On this tour, he was given Buddha relics and when he returned home, he entrusted  the caretakers of Jantseling Temple with the relics and renamed it "Jantseling Buddhist Relic Temple."   
Then in 2020, after prayer and reflection, the villagers of Champas Village  made a decision to give Jamtseling Buddhist Relic Temple to Geshe Tsewang. Geshela accepted their gift with humility and vowed not only to repair the Temple but also  do everything he could to fulfill it's mission to preserve the dharma for all people. 
This year, Geshe Tsewang began his latest project, a huge 25 foot, indoor representation of our founder Lama Tsong Khapa.  Once completed, it will be housed within the Temple to protect it from the elements. This ambitious project will take up to four years to complete.  It will not only serve as an inspiration but will provide meaningful employment for many local residents..
The History of Ngari Institute of Buddhist Dialectics 
& Lion's Roar Dharma Center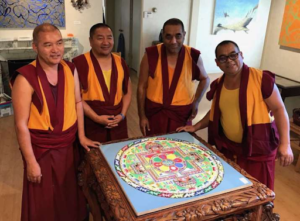 Many years ago, when Lama Yeshe Jinpa met Geshe Tsewang Dorje for the first time, there was an instant feeling of recognition on both sides. Since this auspicious meeting, Geshe Tsewang and Lama la have continued to keep in touch on a regular basis to exchange ideas and share experiences. They are committed to supporting each other in promoting the values of love, peace and harmony in our world.
In September of 2018, Geshe Tsewang traveled all the way from Ladakh, India to visit Lion's Roar Dharma Center. He brought an entourage of fellow monks in what came to be known as "The Great Compassion Tour." Everywhere they went, Geshe Tsewang shared a binder full of stories and photos about the children entrusted in his care. Kind and generous people responded to these stories with donations but the need is long term and your support is needed now more than ever.
Opportunity to Sponsor a Child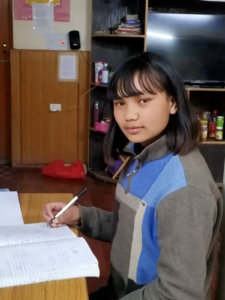 Ngari Institute of Buddhist Dialectics was opened in 2012 by five monastics with a mission to serve poor and needy children living in Ladakh. From the start, they understood that children need more than love, food and housing. A spiritual traditional Buddhist education is embedded in every part of the children's day. Then to ensure that they have the means to provide for themselves and their families, Ngari Institute  partnered with local schools who could provide them with a modern scientific education.
Geshe Tsewang and others reached out into their community to find orphans, children of single parents. children from poor families with many children and children with parents who had little or no income. 
Before the covid pandemic, there were nearly 70 children living onsite but due to the epidemic, many children were sent home. The children have begun returning and the need for sponsors  who are willing to make a dedicated and lasting commitment is great.
Meet  Featured Child  Deldan Namgail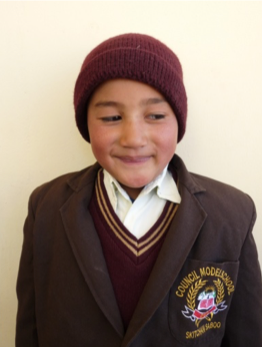 Deldan Namgail, aa friendly 3rd grader with an infectious smile for everyone he meets, is one of these children. Deldan's family struggles to not only ensure his educational access but  also to provide for his basic human needs of food, shelter and clothing. 
Deldan and all of the children at Ngari Institute  need long-term, mature sponsors who are unwavering in their commitment, compassion and love. If this describes you and you feel moved to make a real lasting difference in the life of a child, please contact Geshe Tsewang through the Ngari Foundation  link provided below.
Invitation to go on Pilgrimage to Ladakh with Geshe Tsewang Dorje
Geshe Tsewang  encourages anyone who feels especially inspired to learn, serve and immerse oneself in the culture of Ladakh  to visit Ngari Institute and  make Tsa Tsas  with them! If you wish to make this extraordinary pilgrimage, please contact Geshe la soon using the email provided below and he will guide you on how to best do this. 
Together we can Make a Difference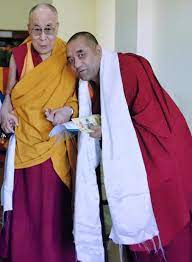 These worthy endeavors speak to our hearts and call us to look within to reflect on what we value. 
You can be assured that 100% of your contribution will be used to  support  the completion of Jamgon Shedrup Thekchog Ling Monastery and Retreat Center, the restoration of one of the oldest Temple's in the Leh, Ladakh region, Jamtseling Buddha Relic Temple, the construction of an inspirational, indoor 25 foot Lama Tsongkhapa statue and finally provide support to disadvantaged children who live at  Ngari Institute of Buddhist Dialectics
In Gratitude to all Benefactors
Geshe Tsewang and all members of Ngari Institute thank everyone who supports their efforts to fulfill His Holiness the Dalai Lama's  vision to provide a holistic education for the children of Ladakh and to establish Shedrup Thekchog Ling, a  Monastery, a sacred institution that  will serve as a beacon of wisdom and compassion for generations to come..
"We need to think in terms of not one year but 100 years. To strengthen our resolve, we must love the project. Then  we put forth great effort and finally we need to cultivate patience."
Geshe Tsewang Dorje
Ngari Institute of Buddhist Dialectics
"American Buddhists need to connect with where Dharma originated and to our Dharma Teachers. We are all in this together and it is important that we've helped support Sera Jey and The Ngari Institute. It is not just about our temple in East Sacramento. We are part of an international sangha." 
Lama Yeshe Jinpa
Lion's Roar Dharma Center
Children and Teachers at Ngari: A Gallery
Recent Work at Ngari: A Gallery