April 8, 2023 was the final session for this Study Group. The text and start date of the next study group has not been determined.
Study Group Lead by Susan Farrar
Study Text: Wake Up to Your Life, Discovering the Buddhist Path of Attention by Ken McLeod
A Description of the Text: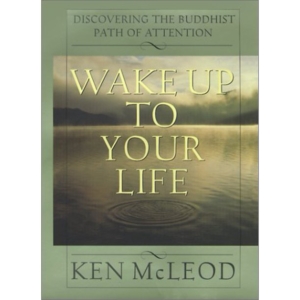 In a departure from the traditional texts studied previously, this next study group will take a more secular step onto the Buddhist Path by studying Ken McLeod's Wake Up to Your Life.
In the introduction McLeod states "Buddhism is fundamentally a set of methods through which we wake up to what we are and stop the cycle that generates and reinforces suffering. The forms Buddhism has taken in many cultures, including our own, may suggest that it is a religion. It is not. Buddhism is a collection of methods for waking up from confusion."
This book is at times demanding, at times transformative and inspirational and always practical. Again, from the book McLeod states "The path described here does not present quick results. . . It consists of taking apart the wall that prevents us from knowing what we are." He presents an outlook of no separation that shows us a way out of confusion, a practice of cultivating attention to develop the abilities we need, and a way of living, aware and awake, that brings the practice to life.
Can I Come to this Group?
Steps on the Buddhist Path is an informal, peer discussion group.  Anyone interested in Buddhism will find this study group helpful.  You do not have to be, or even plan to be, a Buddhist.  The concepts and practices are helpful to anyone wishing to develop their capacity for attention and wanting to dismantle the habituated patterns of behavior and emotional reactions that keep us from realizing true happiness.
The group will meet in person and on-line twice a month on the 2nd and 4th Saturdays of the month at 10:00 am.  There is no determined end date to the group as we will take whatever time needed to explore the book's subjects, practice the suggested meditations, discuss the stimulating ideas and commentaries.  The chapter headings, such as Dismantling Attachment, Karma, The Four Immeasurables, and Mind Training appear to be traditional topics but we'll find that the presentation is very contemporary, challenging and useful.
First Session:
April 23, 11:00 – 12:30 AM
On-line link to come
In Person in the Dojo at 3240 B Street, Sacramento, CA
Thereafter:
2nd and 4th Saturday on-line and in person at 11:00- 12:30 AM.
Zoom Information To Come
About Susan Farrar
Susan Farrar is a long time student of Lama Yeshe Jinpa. In addition to facilitating this study group, she is also one of the ordained Chaplains at Lion's Roar. For more information, please contact Susan (Yeshe Zangmo) at: info@lionsroardharmacenter.org.