Study Group Lead by Susan Farrar
Study Text: The Bodhicharyavatara by Shantideva – The Way of the Bodhisattva
A Description of the Text: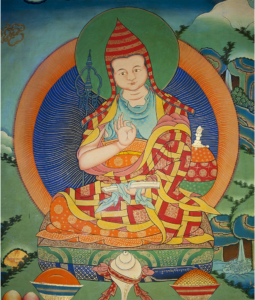 Shantideva presented his very personal approach and experiences of practicing the Bodhisattva path over 13 centuries ago and we are still benefiting from his efforts. Shantideva unflinchingly tells us of his struggles and confusion, his victories and realizations while learning to live the life of a Bodhisattva.
The Dalai Lama, in his commentary entitled For the Benefit of All Beings, states: "Shantideva composed this text in the form of an inner dialogue. He turned his own weapons upon himself, doing battle with his negative emotions. Therefore, when we teach or listen to this text, it is important that we do so in order to progress spiritually, rather than making it simply a subject of academic study."
It is in that spirit of awakening that we offer this study group.
Can I Come to this Group?
Anyone interested in Buddhism will find this study group valuable. This group is particularly suggested for students who have taken Refuge Vows or are contemplating taking Refuge Vows.
Pema Chodron, in her commentary No Time to Lose, says: "I regard this text as an instruction manual for extending ourselves to others, a guidebook for compassionate action. We can read it to free ourselves from crippling habits and confusion. We can read it to encourage our wisdom and compassion to grow stronger. And we can read it with the motivation to share the benefit with everyone we meet."
First Session:
September 12, 2020 10:00-11:30 am
Thereafter:
2nd and 4th Saturday of the Month
10:00-11:30  am
Meeting ID (Click to join)
https://meet.google.com/eom-aphh-cxk
Phone Numbers (‪US‬)
(US) +1 575-347-1288‬
PIN: ‪989 144 174‬#
Eventually, when allowed, we will also meet in person at Do Nga Dargey Temple of Lion's Roar Dharma Center, while continuing online access.
Suggested texts
(There are many translations and commentaries available – these are the ones Susan will be referring to in the group. It is NOT necessary to get or read all of them – in fact, please do not!)
Stanza by stanza commentaries
Shantideva's A Guide to the Bodhisattva's Way of Life
Kenchen Thrangu Rinpoche, Library of Tibetan Works & Archives
No Time To Lose, A Timely Guide to the Way of the Bodhisattva
Pema Chodron (not including Chapter 9)
Practicing Wisdom 
H.H. The Dalai Lama, Translated by Thupten Jinpa Ph.D. (regarding Chapter 9 only)
Transcendent Wisdom 
H.H The Dalai Lama, Translated  by B. Alan Wallace (regarding Chapter 9 only)
General commentaries
For the Benefit of All Beings: A Commentary of The Way of the Bodhisattva
H.H. The Dalai Lama
Shantideva's Guide to Awakening: A Commentary of the Bodhicharyavatara
Geshe Yeshe Tobden
Other translations of the text
The Way of the Bodhisattva (Revised)
Translated by Padmakara Translation Group
A Guide to the Bodhisattva Way of Life
Translated by Vesna and B. Alan Wallace
About Susan Farrar
Susan Farrar is a long time student of Lama Yeshe Jinpa.  In addition to facilitating this study group, she is also one of the ordained Chaplains at Lion's Roar. For more information, please contact Susan (Yeshe Zangmo) at: info@lionsroardharmacenter.org.
Other Translations and Commentaries
(These Won't be Referred to in the Group)
Discourses on Bodhicaryavatara: An English Tranlsation
Translation and verse by verse commentary by Parmananda Sharma, Forward by H.H. Dalai Lama, Library of Tibetan Works & Archives;
Commentary based on Prajnakarmati's Panjika
The Bodhicaryavatara
Translated with introduction and notes by Kate Crosby and Andrew Skilton; General Introduction by Paul Williams
A Bitwise Commentary on "Entering the Bodhisatvas Conduct"
Word by word commentary by Padma Karpo, Translated by Lama Tony Duff
A Word-by-Word Commentary on the Bodhisattva-caryāvatāra, called "Drops of Nectar"
Translated by Andreas Kretschmar, Free PDFs (only through Chapter 5)