Green Tara Sand Mandala
&
Dharma Art and Items
October 15-20, 2019
Viewing from 10 AM to 8 PM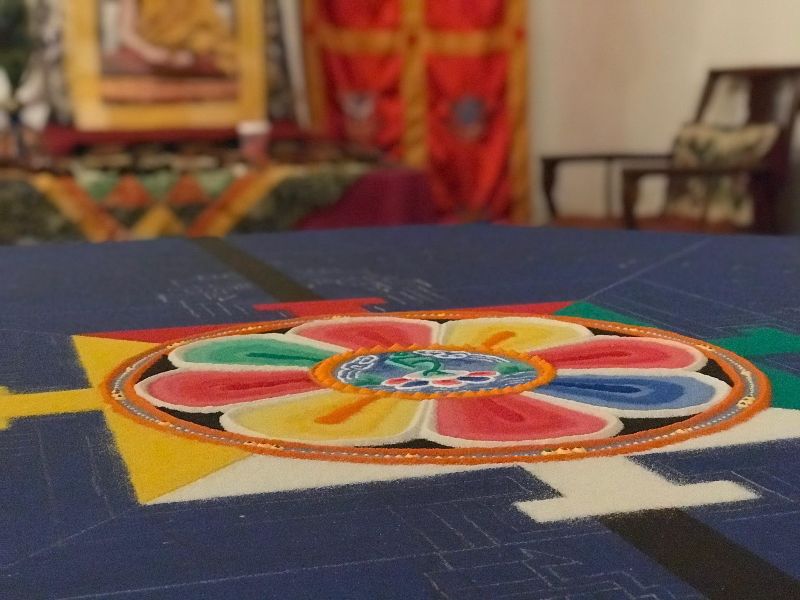 New East Bay Temple
Lion's Roar Dharma Center is hosting monastics from Sera Jey Foundation from October 15-20! They are here as part of larger fundraising campaign to acquire a new temple in the East Bay. As a part of their visit they are creating a beautiful Green Tara sand mandala and have many sacred dharma items and art available for you to add to your home on a donation basis.
Witness A Mandala Growing
In our peaceful gompa, you can witness monks quietly working with beautiful colored sand to create the mandala grain by grain. Using ancient tools and techniques, the monks infuse the mandala with compassion and healing for all sentient being in the spirit of Green Tara. Often there will be soft chants playing, occasionally the monks may ask those present to chant the mantra of Green Tara:
om tare tuttare ture svaha.
Check Out the Dharma Items and Art
To help the Sera Jey Foundation in their effort to acquire a new temple in the East Bay, please take a look at the items they have displayed in the dojo. These items are available on a donation basis, with the proceeds benefiting the Sera Jey Foundation. When you make a donation, you are actually benefiting the original artisans as well! This is a great opportunity to either start or to enhance your home altar. There are many beautiful items which the monks would love to leave here in Sacramento, thus spreading the good merits of those who made the items to our community.
If you have any questions, suggestion, or comments please email us.
Lionsroarmembership@gmail.com