Special Three-Day Event!
Ven. Thubten Chodron
Public Talk: Creating Compassionate Community
Friday, April 10, 6:00 – 8:00 p.m.
Suggested Donation: $25
2-Day Workshop: Skillful Compassion in Difficult Times"
Saturday, April 11 and Sunday, April 12, 10:00 a.m. – 4:00 p.m.
Suggested Donation: $120 weekend / $60 one day
No one will be turned away due to lack of funds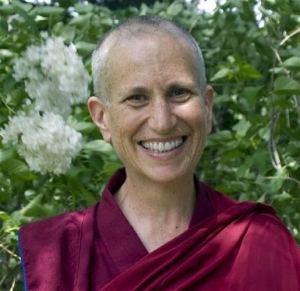 Venerable Chodron has studied extensively with His Holiness the Dalai Lama, Tsenzhap Serkong Rinpoche, and Kyabje Zopa Rinpoche. She has published many books on Buddhist philosophy and meditation, and is currently co-authoring with His Holiness the Dalai Lama a multi-volume series of teachings on the Buddhist path, The Library of Wisdom and Compassion. The fourth volume of this set, Following in the Buddha's Footsteps, was published October 2019. Ven. Chodron teaches worldwide and is known for her practical explanations of how to apply Buddhist teachings in daily life.
Biography
Venerable Chodron (Chinese ordination name 德林 De Lin) is Founder and Abbess of Sravasti Abbey in Newport, Washington. Sravasti Abbey has been endorsed by Tenzin Gyatso, the Fourteenth Dalai Lama, who also gave the abbey its name. You can read the Dalai Lama's endorsement here.
Founding the Abbey to train Western ordained Sangha was the culmination of a long-time dream of helping to establish authentic Buddha Dharma in the West. You can read a more more detailed biography of Ven. Chodron here.
Books and Other Teachings
In addition to the publication of Following in the Buddha's Footsteps, 2019 saw the publication of Awaken Every Day: 365 Buddhist Reflections to Invite Mindfulness and Joy. In addition to these most recent titles, Ven. Chodron has authored 20 other books and edited a further 20. A complete listing of the Venerable Chodron's books and teachings can be found on her website, Bhikshuni Thubten Chodron, where many of her titles and other teachings are also available for free download.
Visit Ven. Thubten Chodron's Shambhala Publications Page and/or her Amazon.com Author Page.