Lineage Family of Lion's Roar Dharma Center
2014
Arjia Rinpoche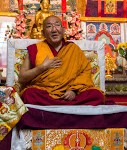 On April 21, 2014 Arjia Rinpoche gave an inspiring teaching in Sacramento on the Lam Rim Chenmo, Lama Tsong Khapa's discourse on the Graduated Stages of the Path. It was well attended by both Lions Roar and Zanabazar Dharma Center members. Arjia Rinpoche currently directs the Tibetan Cultural Center in Bloomington, Indiana. Additional pictures from Arjia Rinpoche's visit are located in the Photo Gallery (icon on the right).
2013
Ganden Tripa, Lungri Namgyel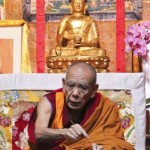 The Ganden Tripa visited Sacramento on November 23, 2013. He blessed the Zanabazar Dharma Center and gave oral transmissions on The Foundation of All Good Qualities, The Hundreds of Deities of Joy, Praises to the Twenty-oneTaras, and Praises to Manjurshi. Members of Lions Roar Dharma Center and Zanabazar Dharma Center, as well as their friends and families attended the auspicious occasion.
2012
Kyabje' Jhado Rinpoche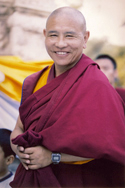 Kyabje' Jhado Rinpoche returned to Sacramento in June of 2012. A very busy seven-day visit, Kyabje' Jhado Rinpoche performed the 1,000 Arm Chenrezig Empowerment and Vajra Achala Jenang as well as a number of public teachings, including one held on the campus of Sacramento State University.
2011
Kyabje' Jhado
Rinpoche
In 2011 LRDC held a 10 day event which included a public talk, an ordination, a Kalachakra Jenang initiation ceremony, a 5-day Kalachakra retreat attended by over 70 people from all over California, and an ending fire puja. Kyabje Jhado Rinpoche, the former abbot of Namgyal Monastery of the Dalai Lama, performed the ceremonies.
2010
Arjia Rinpoche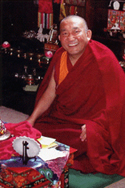 In March, May, and Sept LRDC hosted Arjia Rinpoche, recognized as the reincarnation of Lama Tsong Khapa's father, Lumbum Gye, the founder of the Gelupa sector of Tibetan Buddhism. Rinpoche is the former Abbot of Kumbum Monastery in Tibet and founded the Tibetan Center for Compassion and Wisdom in Mill Valley CA. He currently directs the Tibetan Cultural Center in Bloomington, Indiana. Rinpoche taught on the Heart of the Perfection of Wisdom Sutra, Buddhism in Daily Life, and spoke about his inspiring book "Surviving the Dragon" about his survival and eventual escape from the Chinese occupation of Tibet.
HE Choden Rinpoche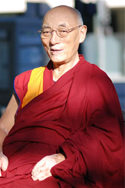 His Eminence Choden Rinpoche taught here on the Heart Sutra in July. When a young boy, he was recognized by Reting Rinpoche, the Regent of Tibet, as the reincarnation of the previous Choden Rinpoche and became a novice monk at age seven, enrolling at Sera Je Monastery in Tibet at age 17. After 25 years of study and extended apprenticeship with many renowned lineage masters, Rinpoche earned the title pandita. He escaped from Tibet to India in 1985, and spent the next 20 years teaching all other the world. In 2007, he founded the Ananda Dharma Center in San Jose, CA, where students from Lion's Roar regularly attend his teachings and empowerments.
Geshe Gendun Gyatso
Also in 2010 LRDC enjoyed the presence of Geshe Gendun Gyatso who led a 2-day Guru Yoga retreat and a 1-day Four Opponent Powers Retreat. Geshe Gendun escaped to India from Tibet in 1963 and after studying at Sera je Monastic University in india from the age of eight, received his Geshe degree in 1993. He is a rare find in the Buddhist Chaplaincy profession in that he performs traditional Buddhist services in Western medical facilities.
2008
Khamba Lama Gabju Choijamts Demberel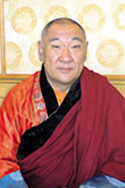 In July, Khamba Lama Gabju Choijamts Demberel, head of the Centre of Mongolian Buddhist, Abbot of Gandan Tegchenling Monastery, Khamba, honored LRDC with one of the first teachings he has given to a Western audience.
2007
Khensur Rinpoche Jampa Tegchok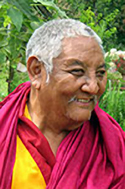 Former Abbot of Sera Je Monastery, Khensur Rinpoche Jampa Tegchok, is the author of "Transforming Adversity into Joy and Courage: An explanation of the Thirty-seven Practices of Bodhisattvas" as well as a commentary of "Seven-point Mind Training."
Khenchen Rinpoche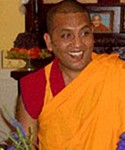 Khenchen Rinpoche, director of Tibetan Center for Compassion and Wisdom in Mill Valley and Oakland, recognized as the 4th incarnation of Khenchen Rinpoche by His Holiness of Dalai Lama, taught on the Three Principle Aspects of the Path and on Vajrasattva practice.
2006
Khen Rinpoche Archarya Lobsang Palden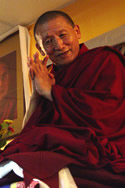 Chief priest and Abbot of Sera Je Monastery, Khen Rinpoche Archarya Lobsang Palden gave a most inspiring teaching on Wisdom Realizing Emptiness.